Using and installation instructions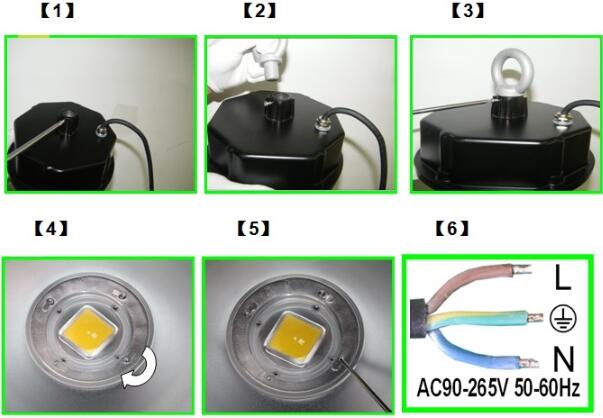 1、Installation Procedures
【1】Loosen screw
【2】Then screw down the hoop into the top cap.
【3】Install hook completely (note to twist tight).
【4】Installs reflector:Rotate the lamp shade in place
【5】tighten the 4pcs screws on the heat sink
【6】Connect Live Wire/Null Wire/Ground Wire to electric cable properly and switch on.
2、After above operation finished, and then connect power supply.
3、Maintenance & repair instructions
(1). Troubles resolution:
Troubles and solutions: Observe the surface of LED light source whether there is discoloration, broken traces,
with or without obvious fracture connectivity when you check. Please also check whether
Power connection is loose & short-circuit, with or without obvious signs of damage.
Please replace the light source and power if there is any obvious signs of damage.
LED lamp not bright
Answer:
a.Lamp wire connection is abnormal
b. Loosen the screw and reconnect the power supply wire
LED is damaged Answer: Replace the LED
Power supply failure Answer: Replace the power supply
LED lamp twinkled Power supply connected well Loose the screw and reconnect the power supply wire
Input voltage waves large
Answer: Confirm the right input voltage
(2) Maintenance, repair Note
1)、Please make sure the power-off before the maintenance。
2)、In order to maintain a good light transmittance, please clean the reflector of the industrial light regularly.
3)、For maintaining good heat dissipation, please clean the dust on shell and the heat sink of the industrial light timely.
4)、Please do not use water or corrosive cleaning liquor to clean, preferably with a dry cloth.
5)、You may open the rear cover with a screwdriver, cut off the power when you replace the power supply.
About the AC power three-pin wire, the brown one is "L", the blue one is "N", the green & yellow one is Ground line.
Regarding DC power wire, the red or white lines correspond to anode, and the black line corresponds to cathode.
Please don't reverse the anode and cathode.